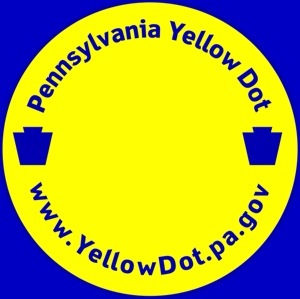 Information courtesy of yellowdot.pa.gov: Pennsylvania's Yellow Dot Program was created to assist citizens in the "golden hour" of emergency care following a traffic accident when they may not be able to communicate their needs themselves. Placing a yellow dot in your vehicle's rear window alerts first responders to check your glove compartment for vital information to ensure you receive the medical attention you need.
The program is a cooperative effort among the Pennsylvania Departments of Transportation, Health and Aging; the Pennsylvania State Police, the Pennsylvania Turnpike Commission and First Responders and local law enforcement.
Participants complete a personal information form, which includes the participant's name, contact information, emergency contact information, medical history and medications, allergies and the participant's doctors' names. A photo – showing only the participant's head and shoulders – is then taped to the front of the completed information sheet.
For more information, please see the state's web site.