Welcome to Festival Week, when all cars turn to the Fairgrounds of the Lisburn Community Fire Company, and all stomachs yearn for homemade french fries, hamburgers, open face sandwiches, cakes, pies, sausage sandwiches…
Well, you get the picture; plenty, we're sure.
When you snap a photo at the Festival and post it on Facebook, Twitter, or Instagram, please tag the pic with #LCFCfestival. We'll share the best ones here and our Facebook Page.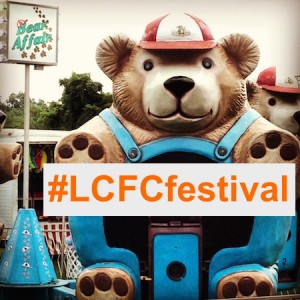 With four days of fun and excitement on tap, your local firefighters and volunteers are looking forward to welcoming you, your friends, and families to the 62nd Annual Olde Time Festival. We've ordered some spectacular weather, so schedule your visits now.
Wednesday, Aug. 5 – Ride Night
The rides run from 6:00 to 10:00 p.m. with a complement of light refreshments in the Small Pavilion. Park the little ones at the kid's games or on the hay ride while you enjoy music from JukeBox Hits, sponsored by Susquehanna Valley Federal Credit Union. Thank you, SVFCU!
Remember, no pets are allowed on the grounds, and the Large Pavilion and most food stands open Thursday, not on Ride Night.
Thursday, Aug. 6 – Full Swing
The Large Pavilion kitchen begins serving at 4:00 p.m., so hurry down for a delicious meal before checking out the rest of the Festival fare. Additionally, we'll serve sausage, BBQ chicken, and french fries to the rear of the pavilion, complemented by hand dipped ice cream piled atop a slice of homemade pie or cake.
Wash it all down with music from the Carroll County Ramblers. Entertainment runs until 10 p.m.
Friday, Aug. 7 – Run for the Borderline
Hours are extended until 11 p.m. to make sure you get to enjoy all the caramel dipped apples, cotton candy, and Ferris Wheel rides you can fit into an evening. The tractor parade jumps off shortly before sunset for the second night.
Entertainment Friday is provided by Borderline, an Olde Time Festival favorite. Park your lawn chair in front of the bandshell early before you grab another helping of french fries.
Saturday, Aug. 8 – Crisp Country Close
Don't miss this evening's performance by Laredo, featuring front man Dave Kelly.
The last night of Festival also features the 8 p.m. wrap up of our annual Silent Auction held in the Social Hall. Don't miss wandering through our fabulous vendors on the parking lot outside the Hall before bidding on a new favorite item in air conditioned comfort.
Bingo runs for the third night in the Social Hall. If that's not quite your speed, drop by our Small Games of Chance table to take a chance on some rip off tickets, or pick up an arm's length of 50/50 tickets at the Fire Company tent in the middle of the Fairgrounds.
All proceeds go towards the operation of Lisburn Community Fire Company, and help its firefighters protect life and property in Lower Allen, Fairview, Monaghan, and Upper Allen Townships.
Lisburn Community Fire Company is located at 1800 Main St., Mechanicsburg, convenient from Interstate 83 as well as PA Routes 15 and 581. Festival parking is free, and spaces are reserved for those with disabilities.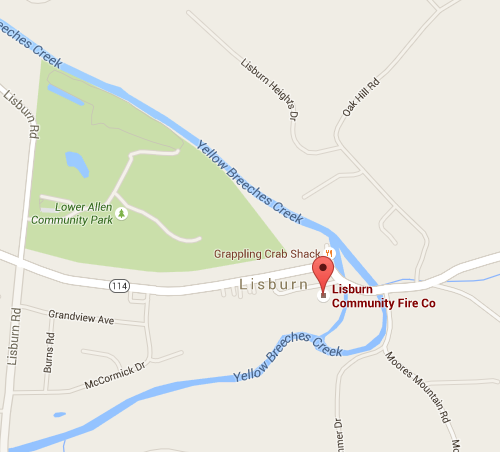 From wherever you are in central Pennsylvania, Lisburn is just down the road. We're less then 20 minutes from downtown Harrisburg, less than 30 minutes from the center of Carlisle and York, and less than an hour from the heart of Lancaster.
Drop by; you won't leave hungry.