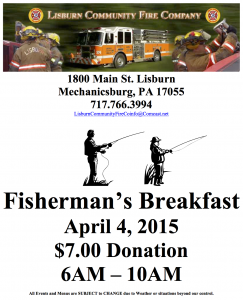 On Saturday, April 4, scramble out of bed early to catch two great annual events at Lisburn Community Fire Company: a Fisherman's Breakfast and an Easter Egg Hunt.
Early birds can enjoy a delicious home-cooked Fisherman's Breakfast from 6:00 to 10:00 a.m. For a $7 donation, anglers from small fry to grizzled veterans can enjoy eggs, bacon, potatoes, and bottomless cups of coffee.
Join us before you catch your limit, or on your way back from the Breeches. Either way, you're guaranteed a filling meal.
On the same day, at 1:00 p.m., come to the Fairgrounds for the Easter Egg Hunt. Prizes for kids of all ages are sure to please.
Fisherman's breakfast and the Hunt; eggs two ways on April 4 equals one sunny-side-up day. And that's no yolk.